Spice girl Mel B and husband Stephen Belafonte introduced their beautiful baby daughter Madison, who was born on September 1st, weighing 6lbs 2oz, in a recent issue of Hello! Magazine. Inside the pair talked about Madison's hysterically funny birth, choosing her name, what life is like as a family of 6 – which also includes Mel's two daughters Phoenix Chi, 12, Angel Iris, 4, and Stephen's daughter Giselle, 7, from a previous relationship, and more.
To continue reading click
On how Mel's third pregnancy differed from the previous two:
Mel: Ideally you want to have your loving partner who you've created this baby with by your side throughout everything, and in Angel's and Phoenix's cases, that wasn't the set-up. I had a rocky marriage with Phoenix's dad and my pregnancy was a very strained time. That wasn't a nice environment to be brought into; kids sense things and I got divorced soon after Phoenix was born. The relationship with Angel's dad, Eddie, was over halfway through the pregnancy and I just had to suck it up and get on with it.
This time i've done it with my partner; someone to come to every prenatal appointment with me – to get excited by every scan. It feels like I've finally done it right. When I was moaning to Stephen about my trapped nerve, I was thinking, 'I've never had anyone to complain to about these kind of things.' I'd just had to get on with everything on my own. I milked it because it was all new to me to have that kind of support.
On going past Madison's due date:
M: The doctor's wanted to medically induce the birth, but I really wanted to avoid that if possible. We tried all the old wives' tales but nothing seemed to work. In the end, Madison just decided she was ready to come out on her own.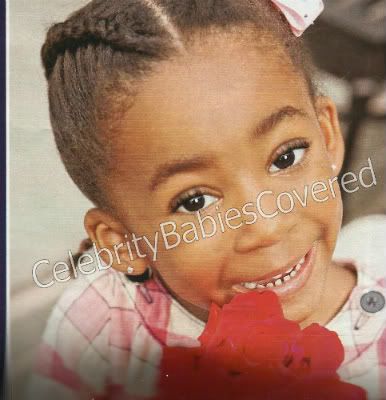 On the labour and birth:
M: I went in at 5:30am and she was born at 8:30pm that night. I tolerated the pain for as long as I could, but around 5pm I succumbed to an epidural.
I was laughing the whole time. Stephen and Phoenix kept winding each other up and daring each other to look at the head. I was laughing so much I didn't really push; five big chuckles and she was out.
The doctor grabbed my hands and I helped pull her out – that was really incredible – and before I knew it Phoenix was helping deliver the placenta. I thought she'd be grossed out, but she became the doctor's little helper, she was really interested in it. She was so good.
[Stephen] cut the cord, nervously, but he spent most of the time winding Phoenix up. It was the easiest birth ever because I was laughing so hard. The woman in the room next to me was screaming blue murder. I'm so glad I had the giggle birth rather than the painful birth.
On why she chose not to have Angel in the delivery room too:
M: [At first] I thought I did as I was comfortable and not in pain, but Stephen and Phoenix were like: 'Noo, we can see the head.' And I thought it might scare her, so she waited in the other room. She came in straight after the delivery.
On having another daughter:
M: I was half expecting it because Stephen and I have three girls between us. I just held her when she came out and I didn't even ask the sex. I didn't know until they weighed her. She came out so quietly. The other two came out screaming with their hands up.
Stephen: I'd rather girls than boys. I can't take the rambunctiousness of boys
On saying previously that Phoenix had wanted a baby brother:
M: Phoenix and Angel wind each other up – Angel's a little madam, she gets in Phoenix's stuff, so Phoenix was saying: 'Get me a boy.' She's over the moon, but I think she'd still like a boy, so maybe we'll try again in a few years.
On picking Madison's name:
M: I had a list of five that I liked. Stephen had some really boring names like Tim, Chloe, Sam, Sarah. You can't have Phoenix, Angel, boring name.
S: Mel wanted Sunny. Everyone at school would be teasing her.
M: I love that name.
S: Hmmm…
On who eventually picked her name:
M: After the birth I sent everyone home and it was just me and Phoenix in the room. I said: 'Why don't you name her?' I knew how much it would mean to her and she was so excited. She originally named her Skylar, but then changed her mind and came up with Madison. I think Madison is a great name. I told Stephen he could choose the middle name but he didn't put anything on the birth certificate.
S: I'm not keen on giving kids too many names. I like the three names Madison Brown Belafonte. Phoenix did an amazing job; Madison fits her perfectly.
On coping with a newborn:
M: It's really nice. I don't sleep much anyway and towards the end of my pregnancy I only slept for an hour or two, so that hasn't affected me too much. I feed Madison at midnight, 3am and 6am, then I'm up with Phoenix for her to get ready for school.
On Stephen helping with night duty:
M: I'm breastfeeding, so he can't do too much. He was so good with Angel, though, so he knows what's to come. He's very hands-on and sweet. Even though he has Giselle, who is seven, he wasn't with his partner throughout that pregnancy, so this is a whole new experience for both of us.
S: I don't mind doing all that stuff. Madison is a very chilled baby.
On how the girls have taken to their baby sister:
M: Phoenix has been amazing. She's like a little mum to her. The first thing Angel said when she met Madison is: 'Are we keeping it?'
Some friends came to see us and when Angel answered the door she asked: 'Are you here to see me or the baby?' She's been the youngest  and the main attraction for ages, so it's a big adjustment for her. We just have to make sure she's involved, so I let her hold Madison and help change her nappies. I'm making sure she knows she's the older sister, so she doesn't feel threatened.
S: They've been great, they really love their little sister.
On having more kids:
M: I want some more. I love kids.
S: Maybe we'll adopt.
M: I say if you can have kids, have them, and if not adopt.
S: Helping an underprivileged kid is a good thing. You can change someone's life who is already here.
M: It's something we'll talk about.
Source: Hello! Magazine, Issue: 1193, Date: September 26th 2011. Photos by Troy Jensen.