Coronation Street star Samia Ghadie and fiancé Sylvain LongChambon were the cover stars of a recent edition of OK! magazine when they introduced their beautiful newborn son Yves Joseph. Their little boy was born weighing 8lbs 9oz on September 24th 2015 at 2:06pm in Macclesfield General Hospital
To read all about Yves delivery, choosing his name, how Samia's daughter Freya feels about her little brother and to see additional photos please click
Although Samia was originally booked in for a Caesarean section on September 24th, things didn't go exactly as they had planned when she suddenly started having contractions the night before.
Samia: I had been joking for months at work that I was going to give birth during the live episode. When I told the producer I was pregnant, he said that ruled me out of the live episode. I jokingly said: 'Yes, because I'll probably be giving birth,' Which I nearly was, but luckily Yves held on.
I was literally sitting with my legs crossed watching the show. I was terrified to move — I thought if I did my waters would break and I would end up going in to labour. I think I was just nervous for everybody and getting all wound up.
Sylvain: We were thinking, hold on there, it's only one more day.
Samia: [I had contractions] most of the night, but I think Yves was definitely getting ready to come out.
Sylvain: He was quite big and he was in the correct position. We did think, this could be it.
On having the Caesarean section the next day:
Sylvain: We drove to the hospital at 10:30am. Originally we had planned to go earlier, but the anaesthetist wasn't available until the afternoon. At 1pm they came to get Samia ready for the operation.
Samia: They started the operation at 2pm and Yves was born at 2:06pm. It was amazing. Our consultant Vincent Hall delivered Freya, too — my midwife Gemma missed Freya's birth as she was on honeymoon, so she swapped her shifts so she could be at Yves birth. We had the same anaesthetist too, which is lovely. It was really nice to have familiar faces around in the operating theatre. Vince is lovely, he's a bit of a joker and he really puts you at ease.
On having to use forceps to help assist with Yves delivery:
Samia: [Vince is] known for how quick he is at delivering babies. He's like Edward Scissorhands.
Sylvain: [I think Yves was delivered] in less than six minutes. I took a photo of the clock in the theatre and I'm sure it was only four minutes.
Samia: I had a spinal block and that pretty much paralyses you. You can still feel everything but without any pain, so it's a really weird sensation. I could feel him trying to get Yves out. He had only made a small [scar] incision because Freya was 7lbs 20z and I think he expected Yves to be the same size. But he was bigger so he needed the forceps.
[Vince] stopped pulling and turned to Sylvain, saying: 'If you want to any photos, take them now.' He just posed!
On how well Sylvain handled watching a Caesarean:
Samia: I thought he might faint but he was brilliant.
Sylvain: Yes. but there was no blood. I didn't feel sick or anything. It was just more of an emotional thing for me. Beforehand Vince had told me to bring some chocolate and not to feel embarrassed if I needed to step out of the room. I think there have been quite a few accidents in the operating theatre in the past with dads.
Samia: There is quite a well known footballer who fainted and broke his nose when he hit the operating table!
Sylvain: It felt unreal. It was a weird feeling seeing it happen. But two seconds after Yves was out he started to cry, then Sam started to cry and then I had a little tear in my eye.
On having to have a Caesarean section instead of a natural birth:
Samia: When I was pregnant with Freya , I wanted a natural birth. But Vince thought my pelvis was too small for a natural birth and I probably would end up having an emergency C-section. They thought it would be safer for me and my small pelvis.
On her recovery period:
Samia: It's been quicker this time, but more painful because of the scar tissue. I think there are more adhesions. I've been up and about a lot more. I've been out walking Yves. With Freya it felt like I was in a bubble for a couple of months when I didn't do much. I didn't do much. I'd never changed a nappy when Freya was born so I didn't really know what to expect. I've felt much more calm this time.
On becoming a dad:
Sylvain: It was just a really weird feeling. Yves had been in Sam's belly for nine months. But for me all of a sudden there was just this baby there. In the space of ten seconds he was in my arms. It is different for the dad. But as soon as he looked at me, I had this amazing feeling. You love them straight away but your overcome by this wave of emotion.
On older sister Freya meeting her baby brother for the first time:
Samia: Freya and[my mum] arrive two hours after Yves had been born. [Mum] picked Freya up from school and they were there just before 4pm. Freya was buzzing around him like a little bee.
She was so cute. She had been so excited telling her friends and teachers that the baby was arriving. I was getting all these emails and texts off all the mums of her friends. She just ran in to the room and started jumping on the bed. I was still numb from the op so I had to ask my mum to get Freya to calm down. Freya was a little upset because she couldn't hold Yves, but the following day we put a cushion on her knees and we put Yves on the cushion. So she was happy. Now she holds him every day when she gets in from school. She loves him and she keeps giving my mum advice on how to handle Yves!
On Freya's immediate bond with Yves:
Samia: It was more or less straight away. It has been lovely to watch.
Sylvain: Yves is like a little doll to her at the moment. I'm not sure how she will feel when he is two years old when he can walk and pull her hair!
Samia: The other night we were watching a film. I was sat next to them and Freya was holding Yves. She said: 'Don't worry, Mummy's here.' I said I was here. Freya said: "No, Mummy, I meant me, so Yves doesn't get worried.'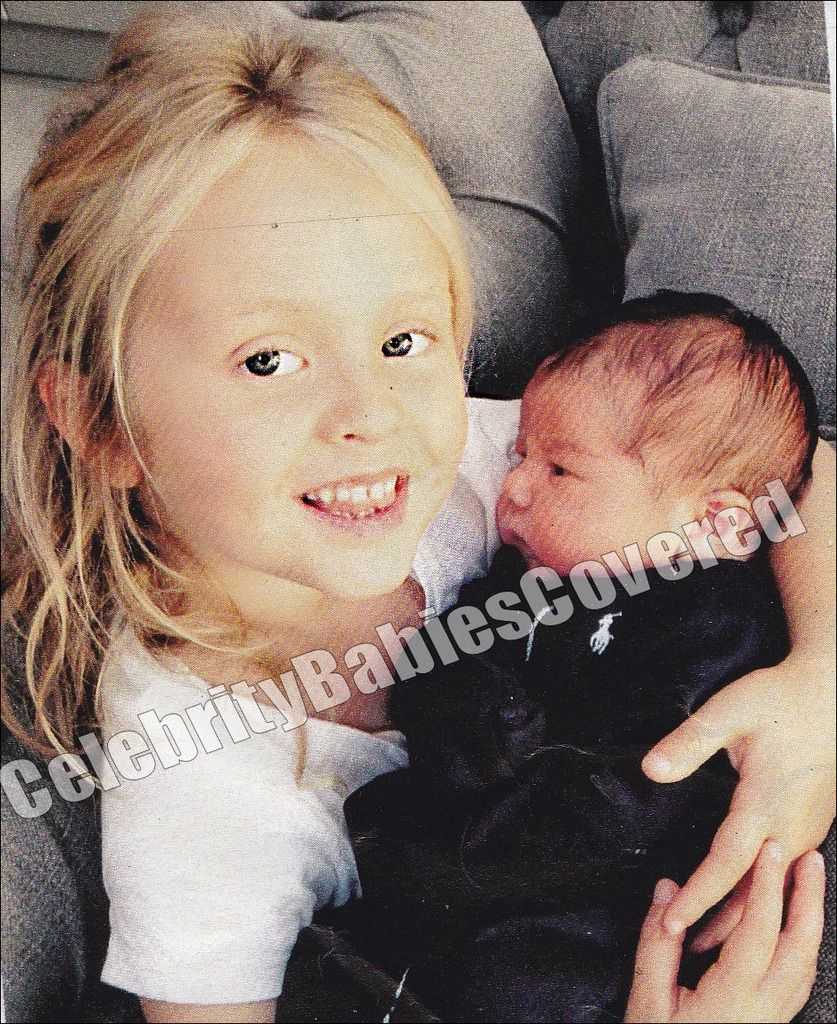 Above: Big sister Freya cradles her little brother.
On if they're getting much sleep:
Samia: In the day we're fine but in the morning we're having to pin our eyes open. Sylvain was wearing an eye mask this morning!
Sylvain: Last week I woke up and thought, I feel really old this morning!
Samia: We're managing to get some sleep. But Yves is waking up every couple of hours as I'm breastfeeding. So it's three times a night.
Sylvain: The last few days he has started to make noises all night long. He growls, he squeaks, all sorts of noises!
Samia: It's like we've got a little creature in the Moses basket [laughs]! He's just getting more lively, which they do after a few weeks.
On breastfeeding:
Samia: I've struggled with it this time. It's been really painful. Even to the point where I was bleeding. It was toe-curlingly painful the first week, but I'm through that now.
On if Sylvain is a hands-on dad:
Sylvain: Obviously I can't feed him at the moment. But I have been changing nappies and giving him his bath. It feels natural as I used to help out with my nieces when I was living in France.
Samia: He has been brilliant. Whatever he can do, Sylvain has been doing.
On if any of Sylvain's family in France have met Yves yet:
Sylvain: My mum Annie came over two days after Yves was born and stayed for two weeks. It was nice for her to see her grandson after he was born. They're coming over for Christmas with my brother and his family, but he'll have changed so much in three months. My mum really helped us out with lots of cleaning and cooking for us.
Samia: It was like having Mary Poppins living with us!
On raising Yves to be bilingual:
Sylvain: It'd be nice for him to speak French when we go to see my family. I've always been told it's best to start while you are young.
Samia: Freya and me are going to try and improve our French too.
On picking Yves' name:
Samia: We were always going to have Joseph as the middle name. I love that name but because my dad had passed away we thought it would have been a bit strange to have that as his first name. There is only one Joseph in our family — my dad. I remember liking the name Yves when Sylvain first told me his brother's name.
Sylvain: We wanted a short name because my family name is so long. I said: 'Let's call him Yves,' and Sam agreed. I'm really close to my brother and he's going to be his godparent.
Samia: I'm named after my dad's sister. My auntie Samia begged my mum to call me after her. She's not shy, my auntie Samia!
On telling Sylvain's brother his nephew was being named after him:
Sylvain: Once he was born I rang him. I told him we had picked a short French name. As a joke he said Yves and I said yes! He couldn't believe it, but he was very flattered.
Samia: Yves is coming over this week to meet baby Yves.
On Yves' nursery:
Samia: Sylvain has done all the painting. It's pale blue and light brown. Yves has a cot and Mamas and Papas furniture. But he'll be with us in his Moses basket for now.
On if they'd like more children:
Sylvain: We'll see! To be honest I'm happy with Yves. It's a big step from two to three. It's up to Sam really.
Samia: I was surprised when Sylvain said that. But we do have enough at the moment! I'm happy that I have a boy and a girl. We're blessed to have two lovely children.
Source: OK! magazine  Issue: 1004  Date: 27th October 2015  Photos: Alan Strutt