Actress Tori Spelling, husband Dean McDermott and children Liam Aaron, 2, and Stella Doreen, 15 months were photographed while on holiday in Punta Mita, Mexico recently and took time out to answer a few questions about how Liam and Stella get on and why celebrity mums are just like any other mums.
To read the interview snippits and to see additional pictures click
On the way Liam is with baby sister Stella:
Tori: At first he was asking when she was going to go back from where she came from, but now he calls her Buggy and, when he feels like it, he loves her. Stella wants to be with him all the time though.
On if Liam is Mummy or Daddy's boy:
T: He's a daddy's boy all the way!
On what kind of baby Stella is:
T: Stella's such a happy baby, she's always laughing and waves to people. She's very funny.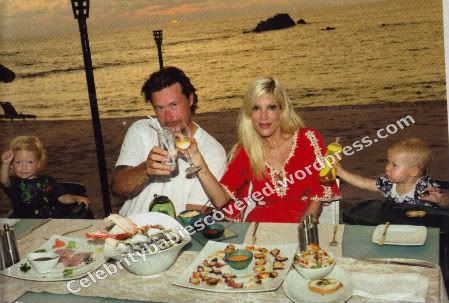 On if she has to resist from spoiling Liam and Stella:
T: Given my financial situation, as it stands, the only thing I can really spoil them with is love — and that's the most important thing, so I have no worries with that!
On how she likes to spend time with her family:
T: Family dinner is really important to me. Our schedules are so chaotic right now, but I'm really trying.
On how celebrity mums are the same as any other mum:
T: People think celebrity mothers are different, but we're all just doing the same thing. That's what was great about my book Mommywood — people came up to me and said: 'I love how you're so honest about your mum — and I also have hard times with my mum!' Doing that book has bonded me with people.
Source: OK! Magazine, Issue: 692 Date: September 22nd 2009. Photos by Rex