Nicola McLean celebrated her baby shower with family and friends at the Mayfair Hotel in London on Thursday, January 28th. Among the guests were the model's manager Claire Powell, who also organized the shower, singer Peter Andre — who brought along daughter Princess Tiaamii Crystal Esther — and Chantelle Houghton. Baby showers are normally a women-only event but the mum-to-be threw away with tradition by inviting Peter along. She was given many gifts — including numerous yellow and white items and a jumbo Mickey Mouse from Peter and Princess — that was so big that at the end of the night she had to be helped to her car by friends and staff as she left the hotel. Speaking on Twitter later that night she said:
just had my baby shower!!!!!!!!!! it was amazing claire is the best im a lucky lucky mummy to be xxx
Baby on the way is due in March. Nicola and husband Tom Williams are also parents to son Rocky, 4.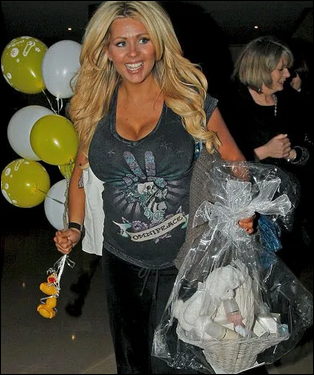 Source: Daily Mail, photo by Matrix