Olympic windsurfer Nick Dempsey is reflecting on how much his newborn son Thomas-Flynn has changed in the weeks since his birth. "I can't believe how strong his grip is now," he says joking: "That will be good for when he's windsurfing!"
Nick is already anticipating the day when he can take his son out on the water. "I think when he's about 2, as he'll be able to stand then," he says, gazing down at the tiny tot sleeping soundly on his lap. "I've got it all planned…I'm going to get him a custom made board."
To read the rest of the interview and to see additional pictures click
With Olympic medalists for parents, Thomas-Flynn is bound to lead a sporty life. His proud mum is Sarah Dempsey, who won consecutive gold medals at the Athens and Bejiing Olympics and recieved the OBE to mark her achievement.
Sarah, 29, whose middle name is Ayton, was part of the all-female team nicknamed 'three blondes in a boat' who sailed to victory in the Yngling class at last year's games. Meanwhile, Nick 28, won bronze in Athens 2004 and came fourth in Bejiing.
The young family, which also includes cocker spaniel Ringo, live in a house by the sea in Weymouth — where the sailing events for the 2012 Olympics will be held.
"If anyone wants to compare having a baby to winning an Olympic medal, then the amount of intensity and work  — and the constant worrying do run pretty parallel," smiles Sarah. "Winning the gold is just a feeling of relief and 'wow, we've done it,' but this was so much love. He's a little miracle."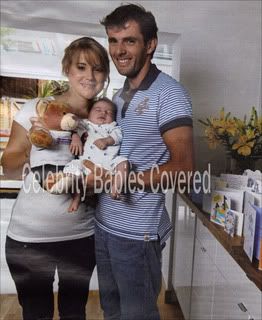 Thomas Flynn has already been visited by Sarah's Olympic team mates Sarah Webb and Pippa Wilson. "One of the most amazing things is how much emotion other people have shown towards him," says Nick. "If you win a medal, you get home and you might have five congratulations cards, but we must have had more than 80 for Thomas. Not that many people can relate to winning a gold medal, but everyone knows how special having a baby is."
Their son was born by natural delivery at the nearby NHS hospital in Dorchester. Despite Sarah's high fitness levels, she still found the labour tough. Her contractions started at 8am on her due date of 27th June, and the baby was born at 3:15am the following day. "I now have a lot of respect for every mother in the world," smiles Sarah. But even though it really hurt, when they put Thomas on my chest and told me we had a boy, it was well worth it — for me, that's my lasting memory.
Nick was by her side throughout and the couple, who married last October, are now adjusting to the demands of a newborn. "When we first got him home, he was completely sound and perfect," says Sarah. "Then when all our parents had gone, he started to be a little baby and was crying and crying. We were like 'Crikey!' But what amazed me was that I was so exausted, and something just switches on and I'm like 'Right, I have to deal with this!"
"Sarah's been amazing," says Nick. "She's the best mum you could have. We feel so fortunate to have an amazing life and the only thing we didn't have that we really wanted was a little boy or  girl just to complete our family. So it feels very fufilling. We just need a little brother or sister for him now."
"Ater 2012." Adds Sarah.
Article: Hello Magazine! Issue number:1086 Date: 24 August 2009. Photos by Mike Daines