GMTV presenter Kate Garraway and husband Derek Draper feature as the cover stars in this week's OK! magazine with newborn son William – or Billy as they will be calling him for short. She and husband Derek also have three year old daughter Darcey Mary.
The pictures were actually taken exactly one week after their son's July 28th birth and it's hard to imagine whilst looking at a radiently smiling Kate, that she went through quite a traumatic experience during the birth. Explains Kate,
"At one point the baby was very active and wriggling around and slipped to the back of my back which meant the midwife suddenly couldn't hear his heartbeat. It was only for three minutes but to me it felt like an hour and I just thought: 'Oh God.'
is 'beside herself' about her new baby brother.
When asked if they'd like to add to their brood, Kate replies,
"I'd do feel like I want one more but I might be high on hormones. I said to Derek: 'I've really got the swing of this now.' But maybe I should wait until he's a month old or teething!'
To read the interview and to see additional pictures click
On how Kate is feeling since the birth and how her pregnancy this time around differed from when pregnant with Darcey:
Kate: [I'm feeling] a bi tired — we were woken up five times last night. I was a lot more sick during the pregnancy this time and for longer. I was groggy and queasy and in the loo constantly. It concided with having to travel a lot with work and I'd get on the train at Euston and say to the conductor: 'Can you knock on the loo door when we get to my station?' I would just spend the whole journey throwing up – hideous.
On how long the sickness lasted:
K: Five months. But after that I was fine, apart from the end when everyone feels very tired and heavy.
On the labour and birth:
K: [It lasted] for about ten hours. The contractions were minor at first but they do get really painful.
Derek: They started at 9:30 and then it seemed to me to take forever and I was really worried that it would stall. But then the doctor said she was ready to push him out and suddenly he was there. It was amazing. Kate gave birth on a birthing stool which I think is a great idea because at least gravity is working with you!
K: It's amazing how you forget all the pain the minute you see that little bundle.
D: It's the most beautiful thing ever, even if he was covered in grey slimy stuff, unlike in the movies.
K: It was all rather wonderful, actually. Of course it's painful but I really liked my midwife and the obsetrician and they gave me a lot of confidence.
On losing Billy's heartbeat for three minutes:
K: They were very calm and in control but I could tell [the midwives] were worried. She suddenly said: 'I've got it, I've got the heartbeat!' Derek and I breathed a huge sigh of relief, but just for that moment I thought: 'Oh my God, people die and babies die…
D: You always worry that something might go wrong and I was trying to be aware that [the whole birth process] is a wonderful thing. I was also worried about how painful it was for Kate. You need to keep two things in mind, firstly how painful it's going to be and secondly how long it's going to last.
On what music was playing when Billy was born:
D: Just after he was born I put Forever Young by Bob Dylan on.
K: He came out with his hands up above his head and the nurses said: 'That's unusual, he looks like a little Superman!'
On Billy being such a good baby:
K: He will literally just feed then I'll give him a little burp and we'll say 'Good boy!' Then he'll fall asleep. It's funny because I say to him: 'This is the last time in your life any woman is going to say 'well done' when you make that kind of noise. Make the most of it now, Billy, if you're on a date aged 18 that will not go down well!
On what Kate thought of the hospital:
K: The staff were fantastic but it was a shame that Darcey couldn't come to visit because of the swine flu risk. But I was looked after so well. I wanted to stay in for as long as possible because I loved it at Queen Charlotte's. [Fellow GMTV presenter] Ben Shephard had his babies there and his wife kept saying: "I just want one more night in the hotel, I mean hospital!
On what Darcey thinks of her new baby brother:
D: She's beside herself with excitement and it's so nice to see them together. She refers to him as Mr Bouncy but we're hoping that doesn't refer to any bouncing she's done to him when we're not there!
On how much weight Kate put on during the pregnancy:
K: [I put on] about 2 stone and a half stone, which is the same as last time. Everyone thought the bump looked bigger, which made me look smaller.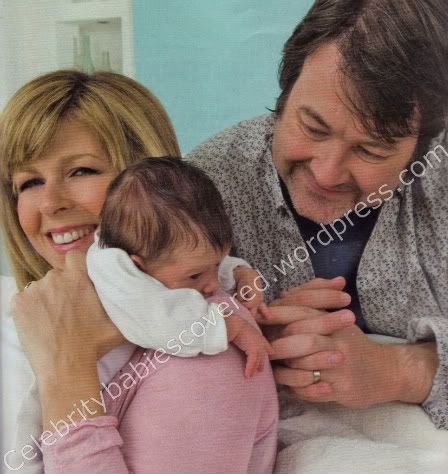 On if she'll be going on any diets:
K: Now I'm minus the baby all my skin is loose and wobbly but I don't think so. Angie Dowds — the really fierce one from The Biggest Loser — has offered to train me but I'm not sure if I'm brave enough. My mum always used to say it takes nine months to put on the weight and nine months to loose it so I might let nature take its course or I might do some fitness training. I haven't decided yet.
On if they knew they were expecting a boy beforehand:
K: We didn't find out until just before the birth. We kept it a secret, though, and only told our parents and Darcey. She was like: 'I've got a baby girl in my tummy and Mummy's got a baby boy in hers — but mine's not going to be born until I'm five!
On who Kate told first from GMTV that she'd given birth:
K: I did a quick ring around all the gang — Clare Nasir, Carla Romano, Ben Shephard, Andrew Castle, Penny Smith, Emma Crosby and Lorraine Kelly. Then I had a live chat with Ben and Emma  on air later in the week.
On Kate going back to work:
K: I'll probably have about 4 months off I think, so I'll be back in the autumn.
On the huge amount of visitors they've had:
D: Darcey keeps saying, 'We've got loads of customers in today, haven't we, Daddy?'
K: We had a glass of champaigne with some of them, but because I'm breastfeeding I've got to be careful.
Source: OK! Magazine, Issue: 689, Date: September 1st 2009. Photos by: Abi Wyles.